to Join Airedale-l click on the picture below and then in the main body just put 'Subscribe Airedale-L "your name"' without the quotation marks.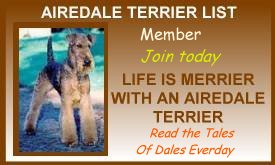 ADT-L members may copy and use this graphic if they would like.
Welcome to our little CyberDogHouse
we are known as
Christine and Allie
We live on a small "hobby" farm on the outskirts of Kaylor, South Dakota. If you have never heard of it, that's all right, the population is around 97 give or take a few. We have a human housekeeper/driver guy that we have trained pretty good. He feeds us nice dog food and lets us help do the dishes he uses, although for some reason he always puts them in that soapy hot water afterwards. He has a big van, and its brown too, that we like to go for rides in because then we can both sit up in the front, he made a seat in the middle so we don't have to share and there is no back on it so we can go into the back on the bed when we need to take a nap. He also made us a tray that holds our water glass. Our Granny ( the guys Mom) lives on another little farm about 12 miles away. Sometimes we go out there, but the driver usually takes that little pickup of his. It is all right, it is a king cab, and has seats like the van, but there really isn't much room for two big dogs. The guy is retired from the military and he is not working now so he spends lots of time with us now, we really like that, and we do check up on him all the time if he is out in the garden or in his shop. For our amusement he has gotten some ducks and some geese for us to watch, but he doesn't like it when we go into their building- gosh what a big building for such little animals.
The profits from sale of this bumper sticker go to the ATCA Rescue.

Click on the bumper stick for email address for details to order them.
Christine: I, was born in June of 1988 in Oregon. I am a really sweet thing, I don't like to be known as a dog and am a quick learner, although I have never played with toys like Allie and my other brothers and sisters and other relatives. I truly love to have a 'chewie' (rawhide chip) every day and will really get excited when the driver guy says it is time to go for a ride. I love to sit up in the seat and look out the windshield, in fact I rarely ride anywhere else besides in MY seat.. The housekeeper dude says I snores really loud unless I am sleeping with my paws over my nose covering up my eyes. I am starting to limp really bad on my right front leg which I hurt as a puppy. But I can still climb up the steep stairs to sleep in my own double bed (my idea of a dog bed) every night. In the winter time I like to sleep with the housekeeper guy- he has a electric mattress pad and keeps my side really warm for me.

Allie: I have been here since the fall of 95, when I was about 3 and a half years old . I am much taller and way more energetic than Christine ever was. One of my favorite toys is a empty plastic pop bottle, I can run around and toss it and play catch by myself for hours. I also like to borrow leather gloves from out of the shop, but that housekeeper guy really hollers out "ALLLLLLLL LEE" when I don't put them back and he finds them out in the yards. I can let myself into the house, but won't to shut the door behind me once I get in, which the housekeeper guy says can be a real pain in the winter. I like to sleep with one arm thrown up over the back of my head behind my ear, I have been told it is really goofy looking. I also love to go for rides in the van or pickup, but will usually let Christine have the regular seat in the van and the seat in the pickup while I ride curled up on the floor. I really like this farm life, Thanks Dad for the rescue- in less than 24 hours I would have been a goner.

Visit our links pages
our collection of links dealing with Airedales, ADT-L and dogs in general


You could leave a mark
in our guest book for us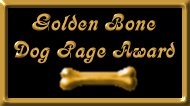 Saturday, February 07, 1998
---
Want to just say HI!!!,contact us by email us or icq pager

---
Web Page first created a long time ago GMT